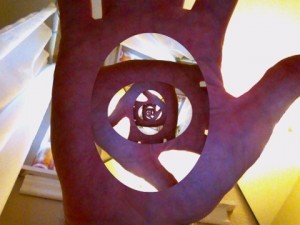 Use Infinite Eye with your iPhone or iPad cameras to create amazing visual feedback effects.
Choose and adjust effects, move the camera, all in real-time.
Capture photos and record full-length movies of your Infinite Eye sessions. Save your creations to your Photo album!
UPDATE: Version 4.0 has been released! Optimized for iOS 7 with an entirely new user-friendly interface.
Reflections:
To change the number of reflections, pinch in or out.
Kaleidoscope:
The turn the kaleidoscope, rotate with two fingers.
Effects:
Psychedelic
Grain
Sparkle
Blue Wave – A gradual slide up and down the blue channel
Green Wave – A gradual slide up and down the green channel
Red Wave – A gradual slide up and down the red channel
Rainbow Pulse
Rainbow Wave – Blue, Green, and Red Waves in repeating sequence
Cat's Eye – Elliptical reflection
Kaleidoscope – spiral rotation of reflections – change the rotation angle in real-time using the slider control
Slit Scan – like dragging your face across a copy machine
Blend Mode – progressively blend the reflections:
Difference
Luminosity
Overlay
Soft Light
Hard Light
Darken
Lighten
Dodge
Video Out:
Just plug in a compliant video out cable. Point the camera at the monitor and lose your mind! Also supports AirPlay.
Recording a Movie:
To begin recording, press the red button. To complete recording, press the red button again. The processing of the movie takes about 25% of the time required to record it.
Taking a Photo:
To take a still photo, press the white button.
Request Features & Report Bugs:
We will be continually adding new features and effects and new ways to apply and combine them. Please let us know what you'd like to see added to Infinite Eye. If you see any bugs, let us know, so we can squash them!
Thank you and enjoy Infinite Eye!
E-mail us at: support@thinkingsource.com